Using a Generator: Tips and Reminders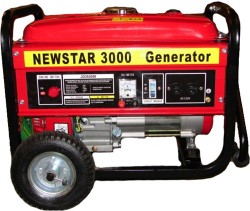 The recent storms caused a lot of power outages and the need for people to run generators. Using a generator to supply temporary power to the home can help to keep important things running such as the refrigerators, well pumps, sump pumps, sewer pumps and other equipment that if down for to long can cause flooding and all kinds of problems.
There are a few things you should keep in mind if you decide to user a generator. Make sure if you have a portable generator that you run it outside and not in the home. Generators release of carbon monoxide, this can be deadly if you run your generator inside your house.
Having a power outage can be inconvenient. Please do not attempt to power your whole house with a generator unless you size it properly. Voltage drops can cause damage to your motors and appliances.
When powering up a house with a generator you need to install the proper transfer switch so that the utility power and the generator power never come into contact. Without the proper transfer switch or panel you could damage your home, electrical system and cause a danger to yourself and the lineman working to restore power.
Generac Generators
I am now a dealer for Generac and install their stand-by units. Generac are most famous for their stand-by generators that go on automatically when the utility power goes down.



Most portable generators have to be rolled outside and manually started with a few pulls and then the transfer switches need to be manually turned on and off. However, a stand-by generator like the Generac models turn on automatically if a storm hits and the utility power goes down. Even if you are away on vacation and a storm hits at home, you can stay right where you are, no need to worry. Your standby generator will keep the important things powered up.