The Little Grey Box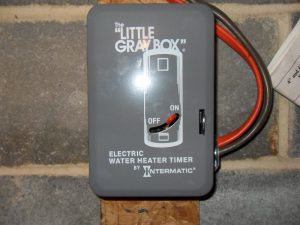 PECO announced that they will no longer have off-peak service  the end of this year. The off peak rate was mostly used for the hot water heaters so that people could save a considerable amount on their electric bills.
Electric water heaters consume a lot of electricity; they run throughout out the day and night to keep the water hot. A water heater timer can help you lower your consumption by only turning on and heating the water when needed.
The Little Grey box by Intermatic is made just for water heaters. It has two sets of trips so it can be set to turn off when you go to bed at night, and then back on in the morning as needed. It can be deactivated while you're away at work.
Contact us if you have more questions on this device or need it it installed.