Generac Standby Generator in Oxford, PA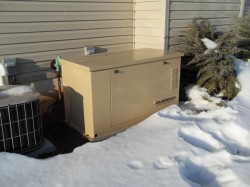 This Generac Standby generator in Oxford Pa was installed in 2002 and is working as good as the day it was installed.
These standby generators have an exerciser [timer] that starts up once a week and lets it run for a short time to keep the battery charged and to make sure that its ready and in good working order for when the utility power goes out.
Inside is the automatic transfer panel that detects when the utility power goes out, starts up the generator and then powers the house. When the utility power is restored it automatically switches over and shuts down the generator.
Long time customer and friend Dave Guthrie and his pet pug Jemmi standing by the automatic transfer switch. They wont have to worry about missing the supper bowl due to a power outage.